User Guide to Breakout: Audio Networking Platform
Do you want to connect with like-minded people and interact with them in real-time?
Breakout is a premium audio social media app that lets you do the same.
In this user guide, we'll tell you how you can harness the power of Breakout, become an influencer, or send your brand's voice to thousands of ears.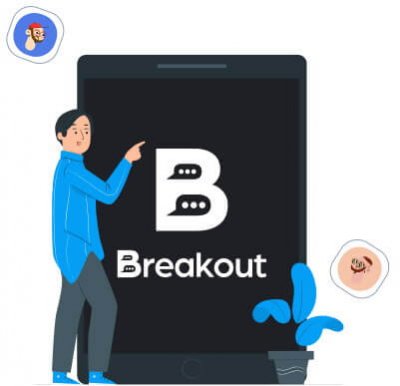 Breakout app is a social audio networking platform (ASN) where you can create an audio room or participate in drop-in conversations to share your views with the world.
Furthermore, you can find top influencers, industry leaders, and public speakers at one click, leveraging the power of audio content to your brand.
Head over to Breakout Marketplace to find excellent speakers for your audio rooms. It's an easy way to book and collaborate with the influencer.
The Future: Audio Social Media Apps

According to research done by Sensor Tower, social audio applications reached 20 million downloads in 2021. It is clear; social audio apps are here to stay.
While businesses are adjusting to operating virtually, fatigue from video meeting apps is real. People are gradually shifting towards the audio-only concept of interaction.
With so many people on social audio apps such as Breakout, businesses can use audio marketing to catch more ears for their products and services.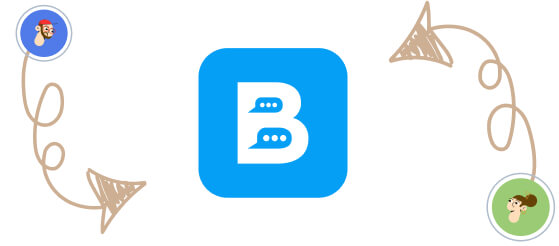 Here are a few good reasons why Breakout is different from the rest.
1. Breakout Respects Privacy
In a world where privacy is a concern, with Breakout, you can take a sigh of relief.
The Breakout App has collaborated with DataVault and uses its system to collect data. DataVault is a system that allows users to control their data and information.
2. Make New Friends
With continuously increasing user numbers, Breakout is your best opportunity to meet amazing people from around the globe.
3. Increase Your Community
Here you can collaborate with like-minded people and influencers. If you own a business, you can create your audio room and grow the reach of your products worldwide.
How To Install & Use Breakout App in Your Device?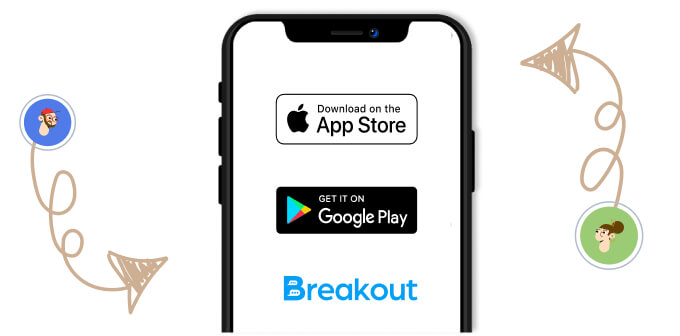 Breakout is available for both Android and iOS. Before installing the app, make sure your smartphone has the latest version of the OS.
Here's how you can begin your journey with Breakout in 4 easy steps:
Download the Breakout App for Android or iOS.
Signup with a valid phone number and choose a username in the next step.
Select topics of your interest to find personalized rooms.
Now, the chat screen will appear, and you can begin to interact in ongoing rooms.
Browsing Through Hallway
The Hallway is the homepage of your Breakout app.
Once you set your profile, you can start exploring the homepage: hop into a room of your interest, browse Hooks, or see upcoming rooms. Your activity feed helps you find interesting people based on your interests.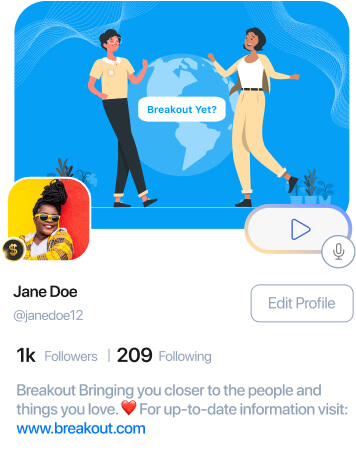 Customizing Your Breakout Profile
Breakouts allow you to easily customize your profile to help you show your best to the world. Here's how you can edit your profile:
On the Hallway of Breakout, you will see a profile icon in the upper left corner.
Tap on the icon, and it'll take you to a new window. Here, you can see your followers, followings, activity, past rooms, and a list of your upcoming rooms.
Click on the "Edit Profile" option to change your name and bio (you can put the URL of your website in the bio to drive visitors).
Tap on the user picture to upload or take a profile picture.
Tap on the camera icon on the top right to change your cover photo.
Tap on the microphone icon to set profile audio. Profile audio is your short audio description.
Audio Rooms on Breakout
Breakout allows you to choose between two types of rooms:
Premium Rooms
Branded Rooms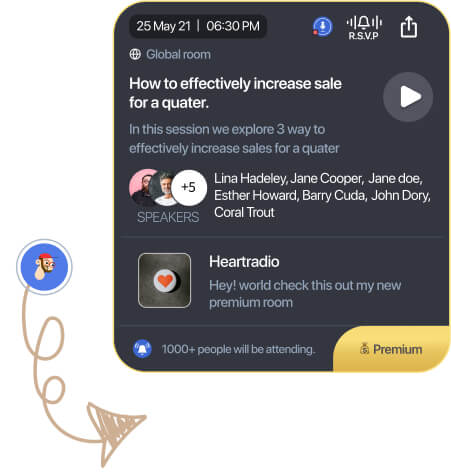 Branded Rooms
Breakout app also offers Branded rooms for businesses and communities. You can add your business or community details and create a customized theme for your business room.
If you want to grow your brand and make people aware of your products or services, branded rooms are an ideal choice.
Joining a Room
At Breakout, we believe every person has a voice to be heard. Here's how you can join a room:
First, find the room you want to participate in the Hallway.
Tap on it, and it'll ask for confirmation.
Once you enter a room, you'll automatically become an audience.
There you'll see three buttons: Exit (red button), Mic off/on (blue button), and Speaker (yellow button).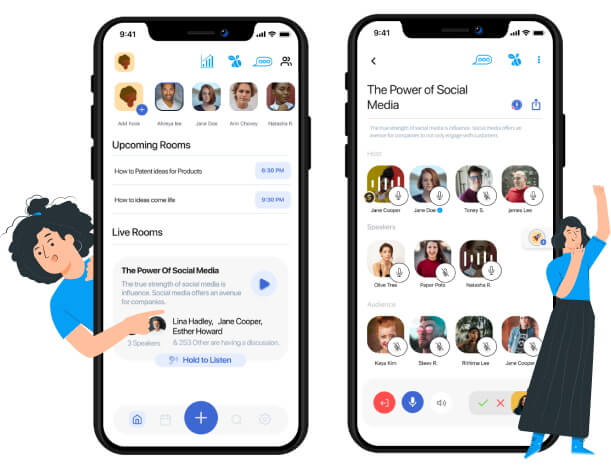 Request to Speak in a Room
If you want to speak up, tap on the speaker button (yellow) to ask the host to be a speaker. Once the host permits, you can speak in a room. The host has options to enable or disable the speak-up requests.

How to Invite Someone Into Your Room?
Please note you can only invite someone who follows you back. Alternatively, you can share the room URL to invite someone.
To invite into your room, tap on the yellow icon floating in the room.

Leaving a Room
Yes. You can even leave the room quietly if you don't find it interesting.

Creating an Audio Room
Here is how you can create a room:
Click on the icon.
Write down the room name, text description, and audio description.
Choose whether you need to keep the room global, social or private. When you set it to "Global," any user from around the world can listen and ask to join your room. In the case of "Social," only your followers can do it, while in "Private," only users exclusively invited by you can join.
Add a co-host if you wish to.
Now, invite audiences and start a conversation.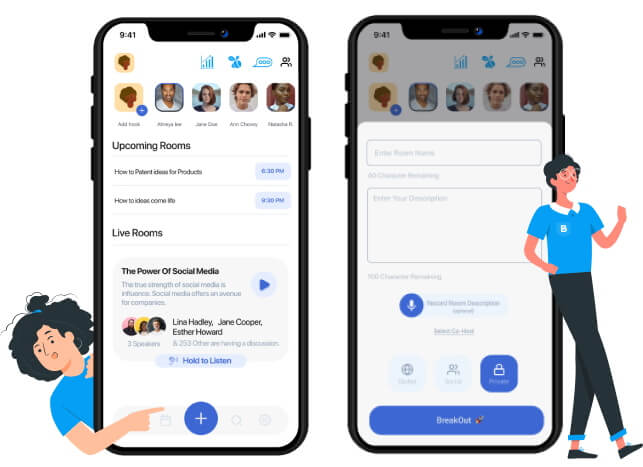 Hooks: Audio Stories in Breakout
Want to share your moments from the day with your followers?
Breakout Audio Hook allows you to share your moments in audio. Consider it the audio form of any social media story. It is your stage to showcase your stories, experiences, thoughts, and advice to the people.
To share a story, tap on the icon on the left bar above the upcoming room on the home page. You can add up to 10 Hooks per day, and one Hook stays for 24 hours.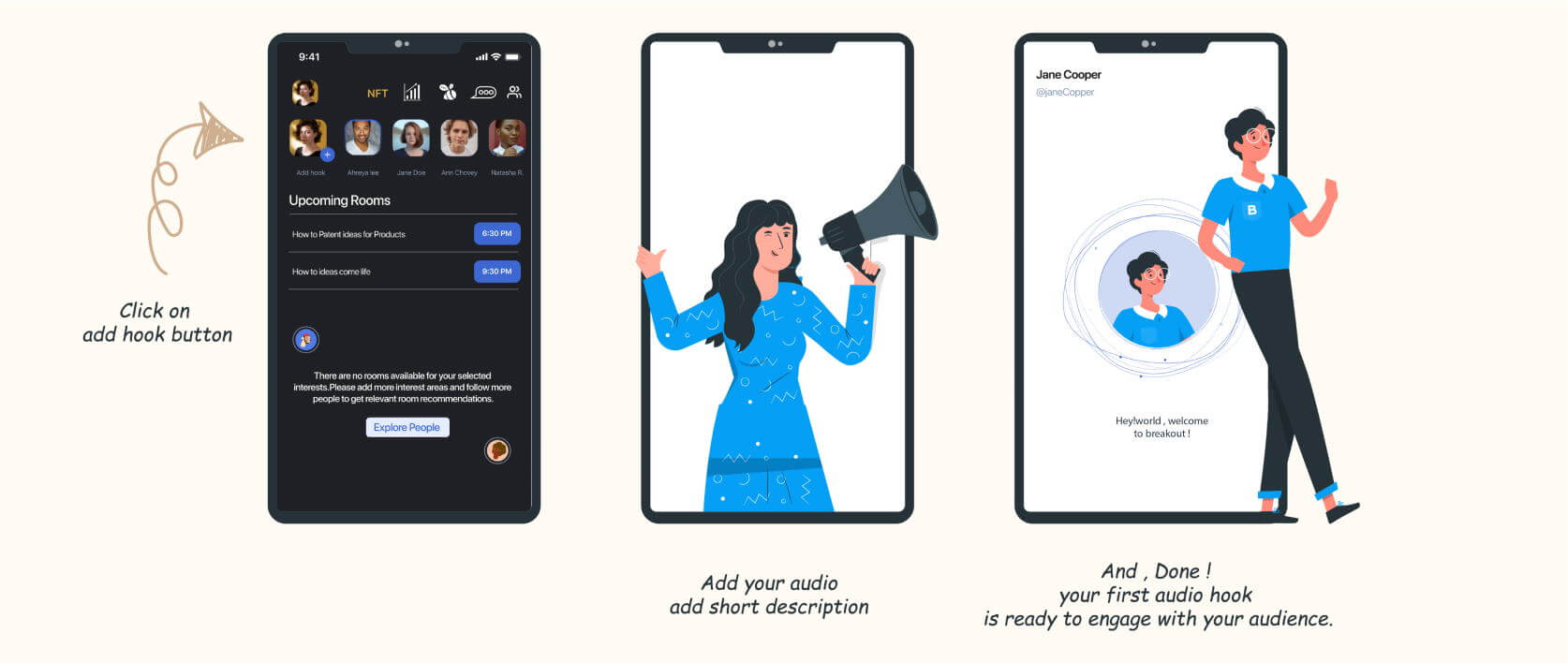 Breakout Tokens
You earn Breakout Tokens when you engage in the app, and with these tokens, you can buy paid services on the Breakout app.
For example, you get 10 Breakout Tokens when you invite your friend or update your profile.
With Breakout Tokens, you can join premium rooms or buy badges.
The more you will engage, the more you can earn badges.
Trophies in the Breakout App
Breakout audio social media apps honor users with various trophies in the form of emojis. You can get these trophies with engagement, invitation, and room scheduling.
You can find your trophies in your profile section.
BeeChat : Chat With Any User of the Room
BeeChat
is yet another exclusive feature provided by Breakout App. If you need to ask anyone in private, you can send them direct messages.
There is also an option to chat with users in the live room. For your convenience, these chats are saved so that you can refer to them after the room has ended.

BeeSearch
BeeSearch is represented by a "bee" icon on the top of the Breakout app.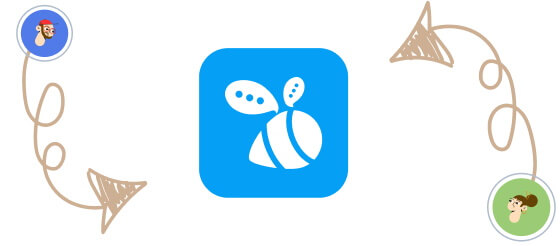 With BeeSearch in Breakout, you can search for the information right from the app. Discover what people are discussing without leaving the app. This way, you can validate what a speaker is saying without switching between multiple apps in the middle of a conversation.
Bee Search gives wings to your research and an opportunity to discover trending topics worldwide.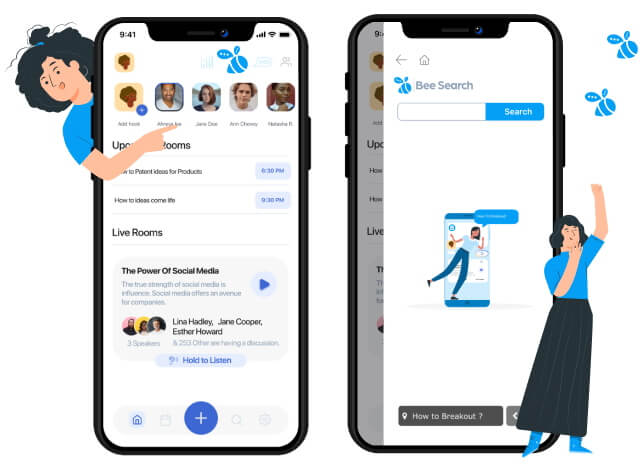 Breakout Analytics
Breakout also provides detailed insights and analytics about your audio rooms, how users engaged with your audio rooms, and if anyone joined the application by using your promo code.
A bar graph icon represents Breakout Analytics, available next to the BeeSearch icon. With this feature, it's easier to grow your audio rooms and engage listeners properly.

Getting a Profile Badge
We love using different badges. This app also offers other profile badges to know which community you support. You can unlock an identity card by paying with Breakout Tokens.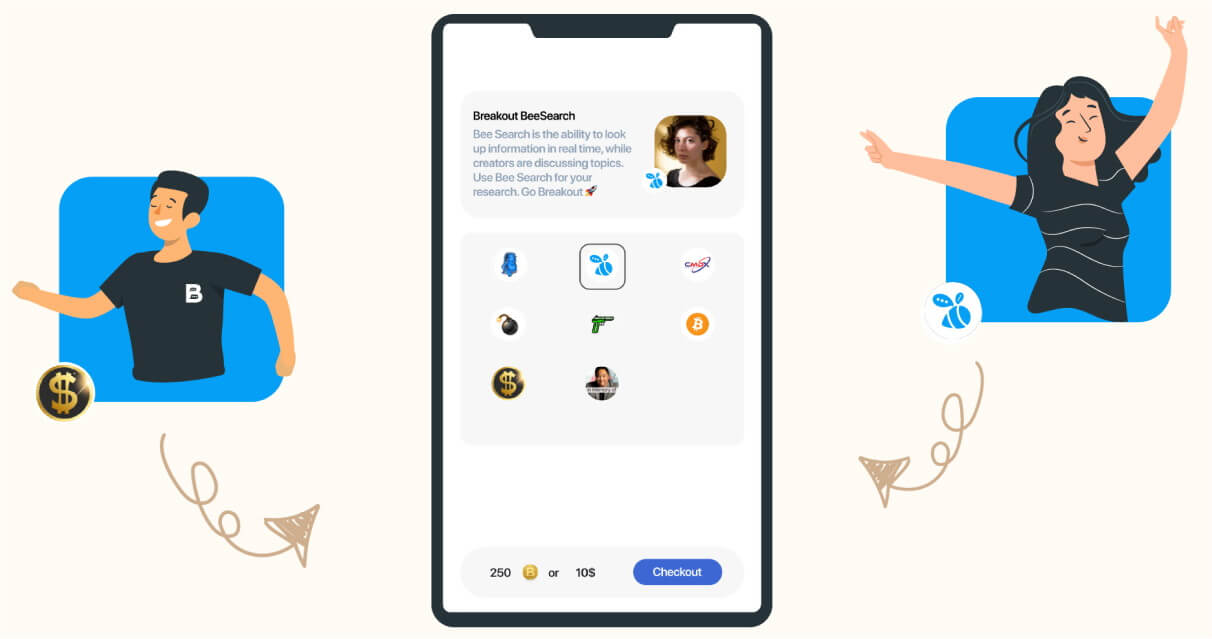 Start Networking Without Boundaries! ?
Scan code to get the Breakout Audio App.
Download the Breakout Audio App now!